Welcome to The Five Days of Christmas! | Day Five

Day 5 giveaway runs through Tuesday December 10th!

This week will consist of several things: fun, simple projects, recipes and wonderful giveaways! And... an opportunity to share your Christmas blog posts with us!




Today through Friday we are going to have a Christmas Blog Hop going, and we would love for you to share your blog! Make sure to follow the guidelines for the hop. Make sure to thank the link participants when you visit their blog! And always read to the very bottom - you never know what you might find!



This part is really going to be fun...




Every day we will include:

A story a day, all from 1939-1947! 30 minutes to an hour long and perfect for the little ones to have a break from modern media.

MP3 format. Right-click the link - choose SAVE LINK AS and download to your computer. Enjoy as you would any other MP3!
Today's audio story:
~~~~~~~~~~~~~~~~~~~~~~~~~~~~~~~~~~~~~~~~~~~~~
Yesterday's Giveaway winner was Teresa R.!

Today's Giveaway
We have a double-event taking place today... because it's
Free Book Friday
! So, we have today's
Five Days of Christmas giveaway bundle AND Free Book Friday combined
!
Here's what you're entering to win:
A Time to Keep, by Tasha Tudor (Hardcover)
Along with The Five Days of Christmas Bundle:
The Gingerbread Man, by Barbara McClintock
(Hardcover)
The children's favorite cookie story... perfect to read while you put cookies in the oven. This book is adorable! Plus illustrations of how to make your own "gingerbread man"... so fun!
Wilton 3 Piece Gingerbread Cookie Cutter Set
Cookie cutters for all that wonderful gingerbread cookie dough you are going to make!

and a 2013 Seasons at Home Magazine Subscription!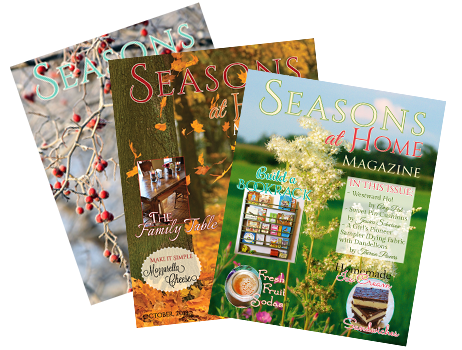 We're really excited about today's giveaway, what a fun package someone is going to get!
You have until Tuesday, December 10th to enter in this giveaway. We will announce the winner on December 11th, and contact the winner via em
ail.
~~~~~~~~~~~~~~~~~~~~~~~~~~~~~~~~~~~~~~~~~~~~~
It's Cookie Day...
While I was sitting here putting this post together,

I

was thinking about all of the baking we've done, and all of the cookies we've made over the years. We love to bake, and for a very good reason - we have a lot of people to eat up the goodies!
I like to think back over the years, and I usually remember things about a certain Christmas based on what kind of treats and crafts we were making then. I can even remember what Christmas music albums we were favoring that year, and playing over and over again!
I remember the Christmas when we had really gotten the hang of making whole wheat bread, and also learned how to make holida
y sweet breads - it felt like we made bread every day! I remember the Christmas when we found the best cookie magazine at the grocery store. We made every cookie in there. Today, that same little cookie magazine is falling apart and has been stapled back together a dozen times, the cover long gone, but we still use it every year.
I remember the box of sugar cookies we made for a drive in the mountains. There was nothing perfect about them - I remember how messy the frosting was, but they were so good! And of course, I think of the year we got a really good cookie press and made what felt like a thousand spritz cookies, and decorated every single one.
Christmas cookies always seem so different from all other kinds of cookies you could make at any other time of the year. I don't know how it turns out that way, but somehow, Christmas cookies always means there's going to be flour, sugar and sprinkles packed into every corner and crevice of the kitchen floor for a month. Many memories of that...
No matter how hard we cleaned, there was always another heap of sprinkles and crumbs. Especially when we had a baby/toddler combination moving around the house. There was always one-half of a wet cookie mixed in the toy box at all times (Precious baby days!)
They look different too. You know all those Martha Stewart sugar cookies (and a lot of other cookies too) we see every year? They are absolutely perfect, so posh and pretty. Must have taken 30 minutes per cookie. But we all know the truth - Real sugar cookies don't look like that. Of course we get those beautiful batches of almost-pristine cookies, but most of the time, they are quite, creative. And sometimes a bit crunchy, or crispy, as my little sister likes to say.
Colored sugar and sprinkles are never sprinkled evenly. There is usually a lovely heap right dead in the center of the cookie. This applies to frosting as well.
But, perfect or not, they are always so special, and so full of memories. :)
What's your best cookie day memory? Share with us!
~ Jessica ~
~~~~~~~~~~~~~~~~~~~~~~~~~~~~~~~~~~~~~~~~~~~~~
Chocolate Cream Cheese Cookie Dough
~ for Spritz cookies and thumbprint cookies ~
Recipe makes enough for about 3 dozen of each cookie, double if needed!
One dough, two cookies for a more productive baking day! Holiday baking can be hard when there are so many recipes we want to make, but there's not enough time in the day! I like to use one cookie dough recipe for multiple cookies to make baking day a little more productive. It saves some ingredients too. We don't really need 6 dozen of one kind of cookie when we are making three others, and I won't find myself sitting in a kitchen with bowls of unbaked cookie dough all over the place.
In the Bosch mixer, or standing mixer, combine the following:
1 cup unsalted butter, softened
1/2 cup cream cheese, softened
1 cup brown sugar
1 egg yolk
1 tsp. peppermint extract (or vanilla for a plain chocolate dough)
Beat on medium speed until light and fluffy. Add:
1/3 cup unsweetened cocoa powder
2 2/3 cups soft white wheat flour (or 2 1/4 cups unbleached white flour)
1/2 tsp. sea salt
Mix until a soft dough forms. Divide dough in half and chill for one hour. These are the two cookies I made with it...
Peppermint Spritz Sandwiches
These came out so good! Use a cookie press (spritz press) to make the spritz cookies, any shape you want. Press them out 1" apart on a baking sheet lined with parchment paper. Bake at 350 degrees for 8-10 minutes, or until edges of the cookies are firm. Don't over bake them though, or they won't be soft!
Cool cookies, and make filling.
In a small bowl with a mixer, combine the following:
1/2 cup unsalted butter, softened
1 7 oz. jar of marshmallow cream
1/2 tsp. Lorann's Peppermint oil (available at many grocery stores, or here)
Mix on high speed for 2-3 minutes, until creamy and fluffy. I mixed in 1/2 cup of
Williams-Sonoma Handmade Peppermint Snow
, or you can use 1/2 cup of crushed peppermint candies. Fill the cookies and roll edges of the cookies with additional crushed peppermint while the filling is still moist and sticky!
German Chocolate Thumbprints
I love German Chocolate Cake... and naturally a cookie version is just as good! I used a finely shredded coconut I bought at a natural food store, and loved it. It wasn't like the cheaper, sticky shredded coconut - it was light and fluffy, perfect for rolling the balls of dough in! I highly recommend finding some, but if not, regular shredded coconut will work just fine.
Roll chocolate cookie dough into 1" balls. Roll balls in shredded coconut and place 2" apart on a baking sheet lined with parchment paper. Use your thumb to make an indentation in the center of each ball. Bake at 350 degrees for 10-12 minutes. Cool and make the filling.
In a saucepan whisk two egg yolks until smooth. Add:
1 1/2 tsp. vanilla extract
Over medium heat, whisking constantly, bring mixture to a low boil and boil for about one minute. Remove from heat and add 2 cups coconut and 1 cup crushed pecans. Stir to combine, then transfer filling to a glass bowl to prevent further heating. Fill cookies with a spoonful of the filling... and then:
Melt 1 cup semi-sweet chocolate chips. Fill a small zipper bag with the melted chocolate and snip off a tiny corner of the bottom of the bag. Drizzle cookies with chocolate... and chill.
So good!
Decadent Eggnog Cookies
Another eggnog cookie? Maybe. I haven't tasted one like it, ever. We even used soft whole white wheat (freshly milled). So maybe another whole wheat cookie, but you'll never know there is wheat in there.
How many will it make? I don't know! I'm guessing we made 3 dozen, but they were larger. You could always make smaller drops.
Combine in a bowl and set aside:
5 1/2 cups soft white wheat flour
3 tsp. baking powder
1/2 tsp. sea salt
1 1/2 tsp. apple pie spice or cinnamon
In the Bosch mixer with the whisks,
cream together:
1 1/2 cups unsalted butter, softened
1 cup brown sugar
1 cup white sugar
Now add:
3 eggs beaten,
2 tsp. pure vanilla extract
2 tsp. rum extract or rum
1 cup eggnog
Cream until fluffy.
Slowly add your flour mixture, jogging each time you add. This is about the consistency. It looks pretty empty because I always do a test cookie when using wheat flour - it was so good we immediately did another tray.
This is about the size we dropped onto the sheets. Bake for 7-10 minutes. Oh boy.


Now the best part:
FROSTING!
In a large bowl with a hand mixer (or in the Bosch with the whisks) combine:
1/2 cup unsalted butter, softened
4 Tbsp. eggnog
3 cups powdered sugar
2 tsp. rum extract or rum
Beat together and frost. You could use real rum but I separate the frosting and sprinkle the real rum iced cookies with spice so the children know which to pick.
This will be a keeper. Enjoy the recipes!
~~~~~~~~~~~~~~~~~~~~~~~~~~~~~~~~~~~~~~~~~~~~~
Now for the giveaway and blog hop!
Follow the steps in the Punchtab box below to enter the giveaway. You need to be a newsletter subscriber in order to qualify to win. By entering the giveaway, you are agreeing to receive emails from Joyous Home. The winner will be notified by email.