The Fall Journal is now available!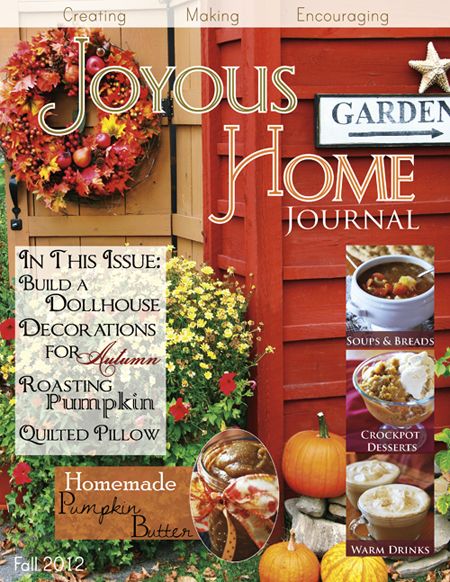 Autumn Decorating
~ Make a burlap cornucopia, decorating with dried beans, make a burlap table runner, napkin ring conversation starter, and a table setting.
Fall "Y" Pillow
~ Learn the "Y" seam technique to make this beautiful pillow!
Build a Dollhouse ~ Step-by-step photos for building a basic wooden dollhouse. A great project for Dad and boys to build together for the young girls in the house!

Soups, Bread & Rolls ~ Recipes for delicious soups: Split Pea, Beef Vegetable, and Creamy Italian Potato Soup. Try making yummy breads: Foccacia Bread, Parmesan Pepper Rolls, Cheddar Cheese Biscuits, and Olive Bread.

Crockpot Desserts ~ Desserts for your crock pot! Gooey Hot Fudge Pudding Cake, Butterscotch Pumpkin Cake and Apple Crumb Pie!

Warm Drinks for Chilly Days ~ Make your own coffeehouse favorites: Pumpkin Spice Latte, Salted Caramel Latte (make it a mocha too!), and Double Dark Hot Cocoa. You must try the Sweet 'n Salty Whipped Cream!

Roast fresh pumpkin from the garden ~ Make some deliciously spicy pumpkin butter, soft pumpkin bread and some cream cheese pumpkin cinnamon rolls.