Good morning dear friends!
The Joyous Home Journal winner for today is PROVERBS 31 HEART! Email us at ripe4harvest@msn.com and we'll get you the Journal!
Today's post will just be a giveaway finale, no project post!
In honor of a new product line PLUS a new surprise publication, ONE
winner will receive this lovely tea cup in a beautiful box! PLUS, Our Joyous Home Journal will be given to
FIVE
random winners!
To qualify for the tea cup giveaway, answer this question in your post:
What is the purpose of giving?
To be sure we understand you are answering the question, start your comment with:
"The Purpose of giving is..."
The FIVE Joyous Home Journal winners will be picked randomly just by leaving a comment! Only the posts that answer the question will be entered in today's teacup giveaway, all other comments will be entered in the Journal giveaway!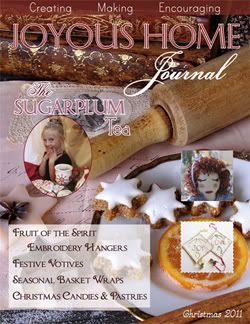 It is possible that the tea cup winner could also be a Journal winner since that is picked at random!
We've enjoyed sharing this past days. I'm looking forward to reading today's comments!